I saw something yellowish and greenish far away from my distance... It seems so familiar to me... Yes, that color!!! That color of shirt.. I have it too. Exactly the same one with that guy...
Ah, then I look at surrounding and scanning for everybody at that place.. Damn!! I saw him.. It was really unexpected meeting.. Tak sangka.. * dalam haty dah excited dah :) ... Patotla macam kenal jer orang yang pakai baju tuh.. hehe.. Selalu dorang together-gether.. Mana mana pon mesti same same... Tu yang da dapat agak, mesti die pon ade...
Ceh, sekali betol la... Die ade.. Tengah order makanan.. hah, same la plak timing beli makan.. hehe.. *buat bodoh jer * ... tapi aku memang tak boleh and tak pandai nak buat bodoh atau buat buat tak nampak kalau terserempak dengan die... memang aku over excited lah kalau terjumpe die.. HYPERexcited... taktaw kenape..
The best part is he talking to me lorh...ahaha.. adoi, tp yg spoil nye, telinga aku tengah sakit, means not function well la.. kene tanye lagi sekali ape die cakap... then aku terus takde mood nak cakap cakap and tanye tanye die... mane taknye, ngan telinga yang tengah separa dengar nih (padahal tak dengar pon sebelah ni), buat spoil jer cakap banyak banyak.. nanti aku jugak yang tak dengar... huhu T.T *sedih*
dahtu telinga nih mengade pulak, mase jumpe die la rase makin sakit... huhu... duk pegang pegang telinga jela.... huhu T.T *sedih*
tak best betol.. If I would turn back that moment, I swear I will... *hoho,, sweetnye*
but i don't ever know.. (sekadar hiasan)
----> yes, elaun suksis dah masuk... hehe.. :)
iklan bersama kit-kat :-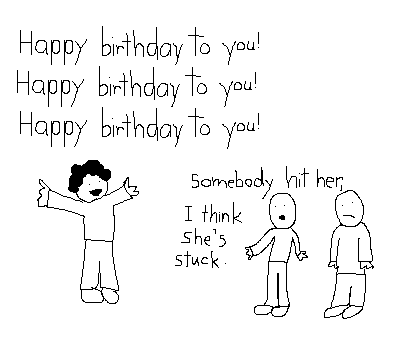 this is for zilalul.. it's me singing a birthday song to him and someone wanna hit me.. who's gonna be that person??? uncle tat a.k.a ridzuan othman or huzaimi senget??? haha
Happy Belated Birthday to Zilalul Khairi... wish kat sini, die taktaw pon..hehe.. at least wish jugak.. tadi nak cakap kat die tapi sebab telinga tengah sakit, so tak jadi nak cakap... Facebook ade pon dah tak bukak..
(tetibe jer masuk part nih).. Zilalul ni takde kene mengene dengan sape sape yang dimaksudkan kat atas, MAYBE... hehe